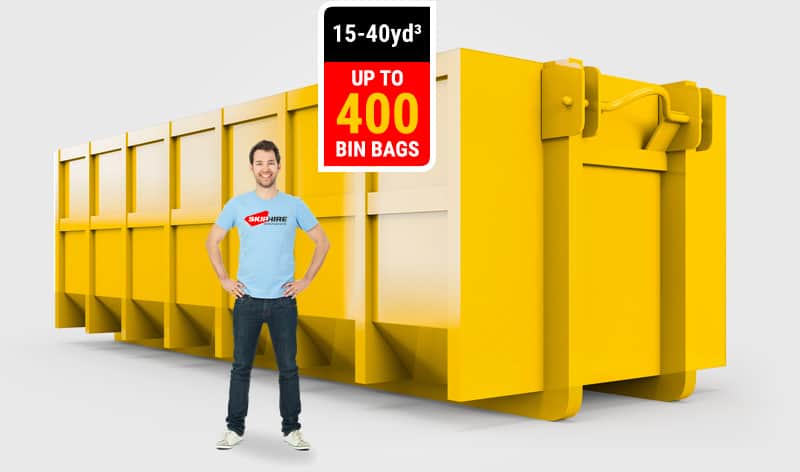 15-40 CUBIC YARD ROLL-ON / ROLL-OFF SKIPS
15 / 20 / 25 / 30 / 35 / 40 Cubic Yard RoRo Skips and 40 Cubic Yard Compactor RoRo Skips are available.
A great range of larger Roll On Roll Off (RoRo) Skips are available for much bigger, commercial sized projects, bigger household clearances and large loads of lighter and bulky waste. Often the builder's choice for the bigger projects.
All dimensions are approximate and the design of the skip may vary. Illustration showing size is not to scale.
15 CUBIC YARD
| HEIGHT | LENGTH | WIDTH |
| --- | --- | --- |
| 3′ 9″ | 19′ 2″ | 7′ 8″ |
| 1.14 metres | 5.86 metres | 2.38 metres |
20 CUBIC YARD
| HEIGHT | LENGTH | WIDTH |
| --- | --- | --- |
| 4′ 9″ | 19′ 2″ | 7′ 8″ |
| 1.45 metres | 5.86 metres | 2.38 metres |
25 CUBIC YARD
| HEIGHT | LENGTH | WIDTH |
| --- | --- | --- |
| 5′ 9″ | 19′ 2″ | 7′ 8″ |
| 1.75 metres | 5.86 metres | 2.38 metres |
30 CUBIC YARD
| HEIGHT | LENGTH | WIDTH |
| --- | --- | --- |
| 6′ 9″ | 19′ 2″ | 7′ 8″ |
| 2.06 metres | 5.86 metres | 2.38 metres |
35 CUBIC YARD
| HEIGHT | LENGTH | WIDTH |
| --- | --- | --- |
| 7′ 9″ | 19′ 2″ | 7′ 8″ |
| 2.36 metres | 5.86 metres | 2.38 metres |
40 CUBIC YARD
| HEIGHT | LENGTH | WIDTH |
| --- | --- | --- |
| 8′ 9″ | 19′ 2″ | 7′ 8″ |
| 2.67 metres | 5.86 metres | 2.38 metres |